Dexter Cattle for Sale
Fairsing Farm is proud to offer red polled Dexter Cattle for sale. Our goal is to select for the highest standard of the breed. A common way to refer to Dexter body types is either short legged or long legged, sometimes also described as "beef" type or "dairy" type. What we at Fairsing Farm are striving for is, what I think of as, a "balanced" type with an emphasis on a calm temperament. We have chosen to breed polled animals because we think that contributes to their docility.
We are happy to announce that all of the bulls born at Fairsing have been purchased for breeding purposes. Thank you to our fellow farmers for their support and dedication to seeing the perpetuation of this wonderful breed. Click Here for a list of cattle sold.
2020 Calves and Cows for Sale: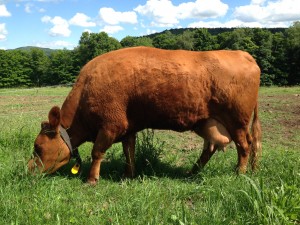 FF Precious Fiona                        SOLD!
Fiona is a Red, dehorned Dexter cow.

PHA and Chondro free
D.O.B. 06/10/13
$750
She was bred by Warren and Sally Coad of Freedom Farm.
She's had four calves born on Fairsing Farm 
Fairsing Lord Baltimore, Red Heterozygous polled, August 2015 sired by SugarP Rufus
Danny Boy, Red Heterozygous polled, May 2017 sired by SugarP Rufus
Ella, Red Heterozygous polled, June 3, 2018 sired by SugarP Rufus
Fergus, Red Heterozygous polled, June 27, 2019 sired by Chanel's Dutch
Yearling Bull SOLD!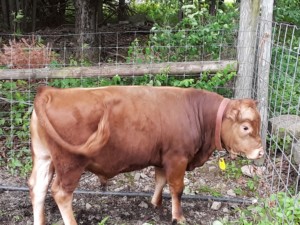 Fairsing Bella's Eddy (SOLD 2019)!
Eddy is a Red, Homozygous polled, A2/A2 Yearling Bull
PHA and Chondro free
A2/A2
D.O.B. 5/22/2018
$2,200 
Eddy was born on Fairsing Farm. His dam is Fairsing Precious Bella and sired by Sugar P Rufus in the field.
For more information, please contact Mark @ 607-652-2167
---